Haku had another seizure this morning, this time while I was feeding Callum. Even worse nightmare, ugh. (Stopping in the middle sucks for both of us.) I had to call my Mom on the phone to hold Callum while I sat with Haku till it was over, then took him out to walk it off. She also changed his diaper while I took Havoc outside and fed him.I'd been dreading Haku having a seizure while I was feeding the baby, but we all survived, no matter how bad it was.

They're both sleeping now and I'm in total worry mode about both of them. Haku because obviously this change is triggering him and I'm not sure how to control this. Callum because I'm not sure I'm making enough milk to feed him and I think I should take him to his pediatrician tomorrow to see if he's put on any weight. (He is peeing and pooping a few times a day, but it just doesn't seem like he's getting much food; I don't know. I feed him once every hour or two hours, if he can't be bothered to wake up.)

He doesn't like to fall asleep until around 5 AM, either. So that's a thing.

Anyway, I'll tell the whole story when I get a little more time.


To do list for today:

-Try to learn to use baby carrier

-Empty hospital bag (yep, still packed with my stuff, and stuff they sent home with me)

-Order actual newborn diapers, which my store doesn't seem to carry

-Order a few more things from Amazon (nursing covers etc.)

-Drink lots more water

-Cook some potatoes for dinner later

-Upload some pics

I have a ton more stuff to do, but I'm trying to keep it simple for now.






Baby story is coming soon, I promise. But first:


What a sucky wayto announce on LJ that I had a baby, ugh.

Actual story to follow when I have time.
Haku had a seizure at around 6:30 tonight. About 90 seconds. Baby screaming, me frwaking out, etc.
Dr. just said to basically come in when it hurts worse, like maybe an hour or two. Uhh thanks doc. Trying to eat some yogurt in case I don't get a chance to eat for a while. This would be in the middle of the night, wouldn't it! Ugh.
SOmething is definitely going on down there / in there. Waiting for the doctor to call me back and tell me to stop talking nonsense and go back to bed.

Today is such a gorgeous day. LIke Bob Marley said, "Sun is shining, weather is sweet." I took the dogs to the beach for a long walk, and I've been outside setting up bird feeders and putting my tropicals out for the season, scrubbing bird baths, re-arranging things, etc. just to be outdoors. Everything is so green and lush, and it smells like the ocean and apple blossoms.
The latest
Hyperbole and a Half 
gives people a really intense look into what depression feels like. Reading it has made me so grateful that I'm able to enjoy days like today, and more understanding of people who can't.
So, here's how the rest of my week went. I finished up my last (so far) day of work. I don't plan to take too much time off, because I honestly can't even afford to, so I only hope the clinic will still be there when I get back.
Then I had a doctor appointment, which are once a week now; kind of a pain. I had a different doctor, some dude, whom friends assured me was very chill. He was nice, really; looked at the birth plan I'd written up and agreed with everything on it, etc.
But here's what happened: he was running an hour late. The nurse who weighed me was pissy and in a huge rush. She didn't wait for the scale to stop tipping and she wrote down that I had lost two pounds. (Maybe I'd lost one, or just hadn't gained.
Which is totally normal.
) But then the doctor saw it, and he thought I measured too small, didn't look right or whatever. So he made me go back for another ultrasound 4 days later. I pretty much had a feeling nothing was wrong and they were just being stupid about it and trying to get some more money, but of course, you worry about things like this anyway.
But, I went back Tuesday and had yet another different doctor who was like, "Umm, why are you here?" Even the u/s lady was all "Everything is perfectly normal, what is the meaning of this?"
So now I'm super annoyed and I hope I don't get this doctor for delivery, because he seems to be an alarmist.
They also keep pestering me to get internal exams every week. (Sorry, TMI.) I keep declining. I think you only need maybe one, before the due date. They were really insistent and totally confused about why I was turning it down. The nurse was literally like "You're
really
not doing it? I mean... your pants are staying on?" YES, FFS. They were so insistent about getting all up in my puanani that I began seriously to suspect their motives. >_> Back away from the vagina, people.
(A few years ago, Jo-chan and I were trying to come up with some way to invent one of those spring-loaded boxing gloves that you could stick between your legs during an OBGYN exam. It would have a trigger or something that you could pull when the doctor went down there for a look. IDK, I still think that's hilarious.)
But enough about my crotch.
I was supposed to have new windows by now, but contractors across-the-board suck. I'm sorry to any contractors who don't. I don't believe in you; you're like Santa Claus. Not that I can actually afford new windows, but the ones in my bedroom (which is going to be the baby's room) are cracked. Like seriously cracked, completely broken, ice on the inside of the windowsill, black mold building up, can't-get-room-above-50-in-the-winter kind of broken. My Mom actually put it on her credit card, tbh, paying like 50 bucks a month. Anyway, originally they were going to put a rush on it and get it done in the beginning of May, but, contractors, you know. "Beginning of May" means "end of June, maybe."
Oh, here's another thing. I have Havoc outside today. It's not his first time outdoors (I've dragged his entire cage outside a few times, to get him some sun, even though this totally panics him,) but it is his first time in the aviary. I figured, I'm not using it for a while, let's see if he can stand it out there. And honestly, he's been screaming so completely non-stop lately, I have no idea what's causing it but it's driving me insane. Today when I took the dogs to the beach he screamed so loud and so long that I could hear him from my car, down the block. O_O
So, I put him outside and set him up with a bath, perches, food, peanuts, and a toy. He was hysterical for about five minutes until he discovered his water bowl. Then he had a drink, got on a perch, and chilled out. He's nice and quiet now and I am a much calmer person without him screeching the way he has been. I think I'll put him out during the day, and bring him in at night. (He could stay out at night since I fixed the aviary all secure, but IDK, I'd probably be too nervous.)
Oh, and I had Sano's bloodtest done again this month. Once again, everything is normal. (*knock on wood!*) This is the first time in years he's had platelets in the spring. Haku is still having seizures on his new meds, so it's not a totally perfect situation, but Sano not being on pred is totally new. The only thing I did differently this year was give him coconut oil with his dinner, because I read some anecdotal stuff from people with ITP saying that it had worked for them. Very odd. I even started cutting down on his
SUPER EXPENSIVE
Chinese Medicine pills. Maybe I can get to the point of filling them every 40 days instead of every 20, saving over $100 a month. Let's hope.
As for the rest of today, maybe I'll do a little writing, maybe some recording for HitRECord, maybe some laundry. I've already had the dogs to the beach this morning for a nice long walk, and done lots of outdoorsy work and now my hips are aching again. Well anyway, won't be long now!
Sun is shining, weather is sweet. :)

The amazing JoeRud on HitRECord
turned one of my poems into a song.
I am so pleased, because this is one of my favorite things I've written, and also because he's an incredible musician. There's something very Simon and Garfunkle about the way he does music, which brings me back to my childhood and the songs that I used to love when I was a toddler.
And that's not all. HitRECord's Pamagotchi
wrote and recorded a lullaby for my baby.
How wonderful is that? Things like this mean more to me than the paycheck. I mean, yes, the paycheck is awesome, and I still think it's the coolest thing that I get thank you notes and nice comments from Joseph Gordon-Levitt who, let's face it, is an amazing artist. But things like this—other people being inspired and sharing their art and talent with you—that is really the best part.
(And also Kubi
animated a few lines of my porno,
which, come on, best thing ever, right?)


It's always worse in the spring. Hopefully there will be some improvement over the summer.
Damn it! Only 9 days this time. About two minutes, 10:56 or so.

Welp, 8 ½ months, the day of the baby shower!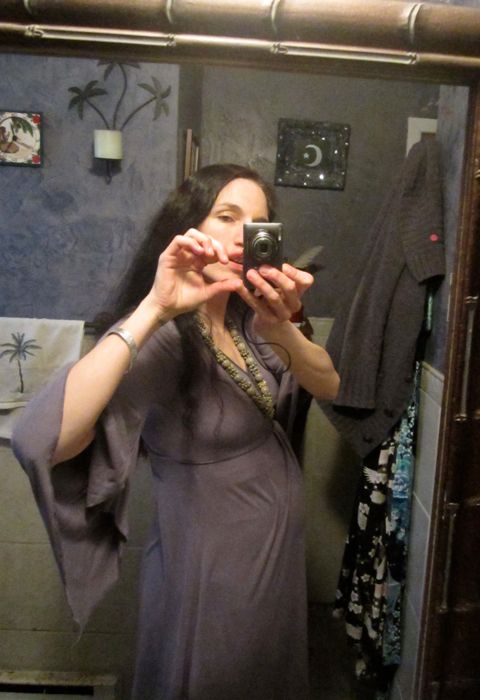 (
Here is the story in pictures (and probably some words: )
Collapse
)
Oh, and here were the two cakes:
Yes, this is a Tiny Story from HitRECord:
And with this one, all I want to know is, WHO ATE URANUS?
It was extremely hectic, with about 55-60 people there. The day started out freezing, like about 38 degrees. But then it warmed up enough to go outside. I had my family members, Kung Fu family, Hula sisters, old friends from The Bad Place, new(ish) friends from the job I'm in now, neighbors, and even some people I didn't know. Some of them were my Mom's co-workers, who came to bring her Grandma gifts. :D
I'm pretty sure I have everything I need, even if it's not assembled yet. I had been looking forward to the baby shower forever. Now that it's done, the only thing left to do is have the actual baby.
Haku just had one of those weird, almost focal seizures. It lasted about a minute and he didn't do the whole tonic clonic thing. Just mental absence, jaw snapping and drooling. That's the second one of those I've ever seen. I still have him on the cluster protocol meds, so probably without that it would have been a full one.


It's 6 1/2 weeks since his last one, which is quite a stretch. I'm going to see if he can go another 6 + weeks before deciding to change his meds again.

ETA: Wizard Vet just said that she thinks that's a pretty good non-seizure stretch for him, and remember it's Spring, which is always a very seizure-y time, and let's leave him on the Zonicamide for a while before switching to Keppra. Keppra is excreted through the kidneys, and the only one he has is taxed enough as it is.
Haku just had a seizure, at 1:45 in the afternoon. It was about two minutes long. These afternoon ones are weird; I always expect them late at night or early in the small hours.
Current Mood:

blah